While Tutt Lazarus gets scorn for lofty criticisms of mainstream vehicles, should we demand perfection in a $405,000 (as-tested) vehicle? Because the Phantom is inches away from yesteryear's glory: the highest regarded, finest engineered luxury vehicle before anyone cared about luxury vehicle upstarts like Mercedes-Benz or Lexus.
That's not to say the RR Phantom isn't drop dead gorgeous. The suicide doors are dumb ass awesome. That Hooper Coachwork inspired design is impossible to miss: clock the long hood and short deck. And an elegant swag line, strong and stoic at the front, gently falling earthward before the taillights. Which are suitably small, drawing your eyes to the beauty of finished metal instead of the overwrought lighting details of lesser vehicles.
And if you don't roll a MegaCab Ram truck, you're in a lesser vehicle. The majority of its linebacker-sized frontal area contains that wonderful Roller grille, making the RR Phantom damn near impossible to fault from the front. But the "headlights that look like fog lights" need the boot: a counterintuitive move that–like four spoke wheels–is an Industrial Design deadly sin. When nighttime bystanders look at your ride funny in the valet lot, something needs to be fixed.
Nitpicking no doubt, especially in "light" (sorry) of what's inside. The dash is old-school charming, vents are made of an actual metal substance and the wood-encased analog clock rotates to show a sat-nav screen in a distinctly James Bond manner. The floor mats are made from absolutely randy-feeling wool, but the carpet could use a dose of Rogaine for a thicker pile. That rug looks fine in the exquisitely finished trunk: kudos to the leather trimmed boots around the dogleg hinges and a pull-down button graphic portraying an actual Rolls-Royce, not a generic silhouette.
While the latest BMW-sourced, leather-wrapped, i-Drive wheel hides behind a wood door, it's black plastic container is worthy of a Dodge Caliber. Dude, didn't I pay enough for leather, suede, aluminum or plumbing fixture-grade brass at this touch point?
And yes, you'll use that somewhat-easy i-Drive system far more often than a BMW, because this is such a relaxing vehicle.
Seating for five is comfortable, with excellent visibility up front and bespoke privacy from the massive C-pillar. That's dandy, just avoid
the action-packed, extra-plush rear quarters in a Maybach, LS460L or even the Hyundai Equus: replacing British Charm (terrible food) with a lap dance (and a free buffet) is most appealing at this Caligula-ish price point. No matter, the Lexicon audio is respectable up front, absolutely amazing in the rear. And the rear power suicide doors (with integral umbrellas) are much like the retractable lady statue on the hood: a thing of beauty.
But the seating inferiority complex continues, as air conditioned seats are a welcome addition to every luxury vehicle in the current millennia. Rolls' engineers made the finest HVAC out there, but do us a solid and introduce cool air via that legendary tuck-and-roll upholstery, please. Or perhaps I shouldn't be a broke-ass car scribe, getting someone else does my errands. In a different car.
So let's drive this gorgeous beast. The direct-injected, BMW-sourced V12 is a smashing success: lifting the RR Phantom's nose from a standstill, accelerating to 60mph in 5.7 seconds like a crescendo from a philharmonic orchestra. It's no bi-turbo Benz at speed, punching the air with a coffin nose hood in a distinct freight train-like manner. Steering feel is acceptable by Toyota Camry standards, delightfully accurate for livery drivers of the Panther persuasion.
Braking is outstanding, though the pitch, roll, massive understeer and tall seating position encourage sane levels of steering transitions. Which explains the reverse tachometer (Power Reserve meter) and bearing-infused Rolls-Royce hubcaps to a tee: show some respect, lest the owner knock you down to a mere hack, hooning down a yellow cab.
Ride quality is this Roller's raison d'etre, and it ain't a disappoint Until it does. With hard walled, run-flat tires stretched to a rubber band sidewall on a 21-inch wheel, the RR Phantom cannot provide the ride expected from its NVH (noise, vibration, harshness) material packed body, near silent powertrain and pin-drop quiet highway ride. Cross an enormous bump and the RR Phantom glides like a cloud, but hit a sharp pavement joint or frost heaves and the Phantom "thuds" more than a gymnasium floor during basketball season. The RR Phantom is dying for a traditional wheel/tire option, perhaps with thick whitewalls to compensate for the extra sidewall: because Rolls-Royce Automobiles aren't purchased for handling prowess and sporty rims.
So the RR Phantom is somewhat a flawed vehicle, but is it best in class? Yes. Nobody comes even close to its appeal if you got the BREAD. Once Rolls-Royce sweats the little stuff OFF in a cheaper, more advanced alternative and refines every last detail down to the ass, the RR Phantom will be the new Greko-Roman God among men.
This Vehicle better be FOOL PROOF before purchase.

Are We Mobbin' or What…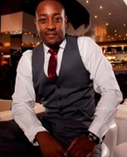 Founder of Lazarus Enterprises Group and head of strategy at Apex Media 365, also Apex Marketing Pro, a leading digital marketing firm.
We have developed a system to help small businesses and local companies connect with potential clients and customers who truly need their goods or services, which will in-turn increase the company's net worth with a lot more ease and control.
We do this through utilizing Gorilla marketing tactics and technology to measure the return on investment.
To schedule a free 30-minute Marketing Tune-up, call us: 1-888-256-4202