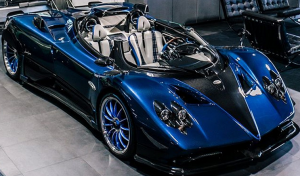 The $17.5 Million Pagani Zonda HP Barchetta Is Now the World's Most Expensive New Car. It unseats the $13 million Rolls-Royce Sweptail. Truth be told, the Pagani Zonda HP Barchetta still looks like a Zonda, at least when you look at it from a distance. Move closer though and you'll start to see the differences between this particular Zonda creation and everything else that came before it. On the outside, the most evident change is the cropped windshield. It's a lot narrower than it used to be, which in turn gives it a more snug look. Whether Pagani intended it for that specific purpose is unclear, though the rationale to be different from all other Zonda special editions makes it feel as if the Italian automaker's Uno-di-Uno personalization intentionally designed the Zonda HP Barchetta this way.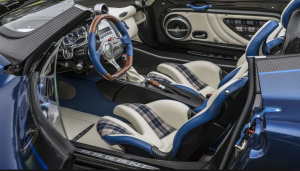 Move beyond the cropped windscreen and other exterior details of the exclusive Zonda, and other changes include carbon fiber modifications like the front canards and rear wing, as well as the addition of a central scoop that looks a lot similar to the Zonda Cinque is sporting. That's not all though since the Zonda HP Barchetta also features a uniquely designed set of wheels. It's an unusual look, but somehow Pagani thought that dressing up the wheels in different designs and color – silver on the left and blue on the white – would make for an even more dynamic look, as if the Zonda HP Barchetta isn't dynamic enough already.
Open the doors of the supercar and you'll then be greeted by a lavish interior that's dressed in Ivory leather, including those two front seats that are actually sourced from the Huayra. More to that, the Ivory leather is complemented by blue leather highlights and tartan elements. Even the car's steering wheel received fancy clothes of its own in the form of blue leather and wood trims. It certainly goes without saying that Pagani's Uno-di-Uno program went through a great deal in justifying the Zonda HP Barchetta's billing as the exclusive Zonda that bears its founder's name and arguably the last in a long line of exclusive Hondas to come out of Pagani's factory in San Cesario Sul Panaro, Italy.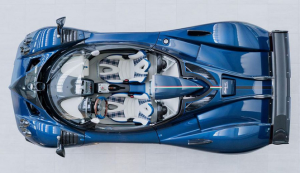 As well-dressed as the Zonda HP Barchetta is, Pagani has made no mention on what kind of engine it's carrying. While the easy answer would be the same 7.3-liter V-12 engine that can be found powering all other Zonda's of its kind, there are indications that the car could instead feature the Huayra's smaller 6.0-liter V-12 engine that can produce as much as 739 horsepower and 738 pound-feet of torque. It's too soon to suggest that this is what Pagani's preparing for, but if it does end up using the "smaller" V-12 engine, look for the Zonda HP Barchetta to be able to sprint from 0 to 60 mph in 2.8 seconds on its way a to a top speed of well north of 200 mph.
Pagani Zonda HP Barchetta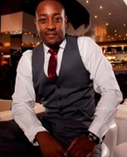 Founder of Lazarus Enterprises Group and head of strategy at Apex Media 365, also Apex Marketing Pro, a leading digital marketing firm.
We have developed a system to help small businesses and local companies connect with potential clients and customers who truly need their goods or services, which will in-turn increase the company's net worth with a lot more ease and control.
We do this through utilizing Gorilla marketing tactics and technology to measure the return on investment.
To schedule a free 30-minute Marketing Tune-up, call us: 1-888-256-4202