The Mercedes-Benz W208 coupes and convertibles were produced from 1997 to 2002. They were sold under the CLK-Class model names.
The W208 models were the CLK 200 4-cylinder, CLK230 4-cylinder, CLK 320 V6, CLK 430 V8 and CLK 55 AMG. All models were available in both coupe and cabriolet form.
The CLK introduced a new market niche for Mercedes-Benz. Although the W208 used components from the E-Class and had a specification level higher than the E-Class, it was in fact based on the C-Class platform.
The CLK features a number of innovative accessories and systems, such as tow-away protection and an emergency transmission mode.
The W208 was succeeded by the W209, also called the CLK.
The CLK AMG is powered by a hand-assembled 5.5-liter V8 engine. The hardware list reads like that of a race car: super-stiff forged billet steel crankshaft, forged, weight-matched connecting rods and pistons, lightweight AMG-specific camshafts churns inside the pressure-cast aluminum block of this chain-driven single-overhead-cam V8 with two intake and one exhaust valves per cylinder, as well as 16 coils and 16 spark plugs (two spark plugs per cy). Its bore and stroke are nearly the same, which makes it an ideally balanced engine. The complex dual-resonance intake manifold with carefully tuned runners helps create an explosive compression ratio of 10.5:1 which is is mostly what delivers the healthy 342 horsepower (255 kW) and 376 lb·ft (510 N·m) of torque.
The five-speed automatic transmission is adapted from the gearbox used in the V-12 S-class models because that gearbox can take the torque. It is fully adaptive and electronically-controlled and is a stronger unit than that of the CLK430. Also, a larger four-bolt driveshaft that's four inches in diameter connects to a reinforced rear differential to keep all the extra power under control. Standard traction control keeps wheelspin to a minimum, while its Electronic Stability Program (ESP) keeps the CLK on its intended path.
The standard CLK chassis is used, and while the current version is not based on the new C-Class platform, the AMG version of the CLK offers some special undercarriage components.
The four-wheel independent suspension is basically the same as the lesser CLK versions, but AMG fits higher-rated springs, tighter shock valving, larger diameter anti-roll bars and stiffer suspension bushings. The resulting firmer, more controlled ride is made even tighter by its high-performance ZR-rated low-profile tires. The brakes have been enhanced as well. The huge four-wheel discs are larger and thicker than the other CLKs, and the rear discs are specially vented to enhance cooling. An anti-lock braking system is standard, while Brake Assist applies full braking force in a panic stop faster than a driver could. It rides on AMG Monoblock alloy wheels, 7.5″ front and 8.5″ rear, shod with 225/45ZR17 and 245/40ZR17 Michelin Pilots
.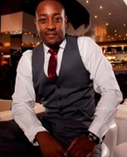 Founder of Lazarus Enterprises Group and head of strategy at Apex Media 365, also Apex Marketing Pro, a leading digital marketing firm.
We have developed a system to help small businesses and local companies connect with potential clients and customers who truly need their goods or services, which will in-turn increase the company's net worth with a lot more ease and control.
We do this through utilizing Gorilla marketing tactics and technology to measure the return on investment.
To schedule a free 30-minute Marketing Tune-up, call us: 1-888-256-4202