Maybach have released updated versions of all of their models. The new Maybach's are directly inspired by the current line and only features minor cosmetic and technical improvements. The Maybach's features a new grille which is different between the standard and S models, the door mirrors have been redesigned to reduce noise and allow the occupants to enjoy a quieter ride. Inside the 62 and 62S there is a an optional partition allowing passengers in the rear to be isolated from the front. The reclining seats that were available previously in the 62 are longer and can be lifted higher allowing the occupant to rest completely and is available on the passenger side in the rear of the 57 and 57S. The Maybach 62 Landaulet has also been updated to the same standards as the rest of the line.
Performance
The Maybach 57 accelerates from 0 to 60 mph (0 to 97 km/h) in about 5.1 seconds; the Maybach 62 and 57 S, about 4.8 seconds; the Maybach 62 S, 4.5 seconds, and the Landaulet, 4.5 seconds. Though not extraordinary by today's sports-car standards, such acceleration is impressive for cars weighing well over 6,000 pounds. Maybachs in general are extremely powerful: the 57 has 518 bhp (386 kW; 525 PS); the 57 S, 559 bhp (417 kW; 567 PS); the 62, 570 bhp (425 kW; 578 PS); the 62 S, 612 bhp (456 kW; 620 PS), and the Landaulet, 633 bhp (472 kW; 642 PS).
Features
Standard features of all Maybach models include, but are not limited to, a navigation system w/voice recognition, air conditioning w/4-zone climate controls, power rear sunshade, rear-seat DVD entertainment system, interior air filter, front and rear seat massage, 21-speaker premium sound system, power tilt/telescopic heated wood/leather-wrapped steering wheel w/radio and climate controls, power trunk open/close, voice-activated AM/FM radio w/10-disc CD changer, keyless start, heated front and rear seats, cooled front seats, power panoramic sunroof, adaptive cruise control, premium leather upholstery, 18-way power front seats, 14-way power rear seats, heated cupholders, rearview camera, iPod adapter, wireless cell phone link, outside-temperature indicator, universal garage door opener, and night vision. Options for the Maybach 57 and 57S and standard for the Maybach 62, 62S, and Landaulet include 18-way power rear seats (replacing 14-way), 5-zone climate controls (replacing 4-zone), power side sunshades, cooled rear seats, wireless headphones, voice-activated power panoramic sunroof (replacing power panoramic sunroof), steering wheel mounted navigation controls, heated glass windows, and 30-speaker premium sound system (replacing 24-speaker).
Price
The base price of a 2009 Maybach 57 is $344,000; the Maybach 57 S, $381,000; the Maybach 62, $394,000; the Maybach 62 S, $430,000, and the Maybach Landaulet semi convertible, just under $470,000. The Maybach 57 Zeppelin is priced at €406,000 ($580,000) and the 62 Zeppelin at €473,200 ($677,000).
Future models
Three new models are expected, a 4-seat sedan derived from the Mercedes-Benz CLS-Class, a full-size luxury SUV derived from the GL-Class, and a smaller sedan, which would be sold for $250,000. With less than stellar sales expectations and heavy impact of 2008 financial crises, Daimler AG is considering cancelling the whole Maybach division. However, Daimler AG has been in talks with Aston Martin to engineer and style the next generation of Maybach models along with the next generation of Lagonda models. Both are to be based on a new Maybach chassis. No release date is given.
Since 2002 Maybach has been defining new standards in the top league of high-end luxury saloons, whilst at the same time continuing the tradition of legendary Maybach vehicles which were part of the elite in the German and international automotive construction industry in the nineteen twenties and thirties of the last century. It is this challenging legacy that the luxury brand is carrying forward – in the form of an extensive facelift of the Maybach saloons, celebrating its premiere at Auto China 2010 in Beijing. The prestigious, tradition-steeped Maybach brand is consolidating its top position in the high-end luxury segment with a more striking design and even more extensive equipment and appointments.
"To create only the best from the best, a vehicle that is the ultimate in wish fulfilment, with a distinctive character of the finest elegance and power" – this is how a Maybach flyer dating back to 1930 declared the company's aim, and it still applies at Maybach in its entirety to this day. This clear avowal of the extraordinary obliged Maybach to revise its high-end luxury saloons extensively and at a top level when it
came to the latest facelift.
Striking, self-confident design
Following their facelift, the Maybach saloons shine with their self-confident, effortlessly superior, distinctive charisma. It is above all the new dominant chrome radiator grille that emphasises their exceptional status – it is meticulously crafted in two different variants. In the Maybach 57 and 62 models it is graced with 20 fine longitudinal bars and in the 57 S and 62 S Maybach models twelve solid double louvres with a "shadow strut" put the spotlight on the vehicle's tremendous power. Both arrow-shaped radiator grilles are also higher than before, have considerably larger dimensions, are positioned more upright and further forward in the direction of travel – clearly symbolising the self-confident status and effortlessly superior, striking appearance.
The designers have elevated the modified bonnet with a higher front upper edge and given it sharply defined contours. It has a shaped edge and appears distinctly arrow-shaped, more expressive and longer than previously. A restyled, horizontally structured bumper trim gives the Maybach saloons an even broader look from the front. Daytime driving lights featuring LED technology and bordered with a chrome insert have been integrated into the outer air intakes.
The new exterior mirrors with optimised aerodynamics for less driving noise harmonise very well with the striking front. Their large mirror surface also means improved vision. Dark red tail lights of exquisite material quality complete with chrome embellishment, plus chrome trim used on the handle in the boot lid lend the end section a powerful, distinguished look. This in turn is underlined by new high-sheen 21-spoke 19-inch wheels in titanium silver for the Maybach 57 and 62 models. The Maybach 57 S and 62 S models will in future be shod as standard with new 12-spoke 20-inch wheels painted in noble sterling silver. And all the models are available in the new, exclusively developed Bahamas Blue paint.
As a result of the facelift measures, the new Maybach saloons gain an extra 11 millimetres in length and 17 millimetres in width when the exterior mirrors are folded out.
Individualisation
Tailor-made individualisation is part of the recipe for success of the luxury Maybach brand. It offers its customers unique ways of customising the specification of its top-class saloons. The Manufaktur in Sindelfingen turns a whole host of special requests in reality: of crucial importance in the work performed are the materials and cutting-edge technologies used to offer an extraordinary visual and tactile experience. This is why the Maybach specialists repeatedly come up with superb new materials and paint finishes – many of them specially developed for Maybach and not available from any other vehicle manufacturer. One of the brand-new features is the option of having individual motifs included on the partition window.
With its flair for the extraordinary, its acute understanding of the perceptual capabilities of the senses and through continuous dialogue with its customers, the Maybach Manufaktur continuously expands its range of optional and customised extras in order to keep fulfilling the wishes and requirements of the automotive market's most prestigious clientele. And it is for this reason that the luxury Maybach saloons will again be available with special protection after the facelift.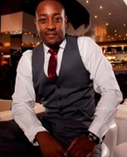 Founder of Lazarus Enterprises Group and head of strategy at Apex Media 365, also Apex Marketing Pro, a leading digital marketing firm.
We have developed a system to help small businesses and local companies connect with potential clients and customers who truly need their goods or services, which will in-turn increase the company's net worth with a lot more ease and control.
We do this through utilizing Gorilla marketing tactics and technology to measure the return on investment.
To schedule a free 30-minute Marketing Tune-up, call us: 1-888-256-4202